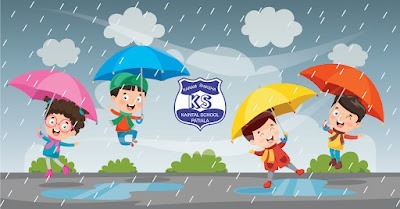 Five Fun Monsoon Activities for Your Kids
Monsoon activities carry great significance in the daily lives of your kids. As monsoon season is an integral part of the Indian weather, so is the monsoon fun. Monsoon is a refreshing break for the kids from the scorching heat and tiresome studies.
They can spend their hours on their will during the monsoon. Kaintal Prep School, one of the leading ICSE prep schools in Patiala, encourages its little students to participate in monsoon activities.
Splash of Fun
In monsoon, nothing is more fun and refreshing than water sports. As a parent, you can engage your kid in water-based activities. You can opt for the traditional way of sending your kids with proper monsoon gear outdoors to enjoy the rain. Also, you explore something new that will instantly catch your child's attention.
Pottery Making
Making clay models are fun yet tremendously soothing. It helps the children develop a sense of concentration. As a parent, you must involve your kid in this monsoon activity as pottery making improves hand-and-eye coordination in the best way. Kids can experiment with new shapes and explore whether their initiatives are fruitful. Children love to play with wet mud, which feels very tranquillising on the skin.
Close to Nature
Being close to Nature is one of the best monsoon activities that you, as a parent, must imbibe into your kid. You can teach your child the basics of gardening and the importance of humidity and rain this monsoon. Take your kid to the nearby nursery where they can pick a plant of their choice and encourage them to take care of the plan daily with tips and suggestions. While watering the plants every morning, you can teach them about plant lives and creates a sense of responsibility in them.
DIY Projects
These adorable and ingenious crafts for kids are perfect for keeping children occupied during the rains or when you have a sick child at home who needs to be entertained. They can also select the ideal position to display it in their room (who doesn't love admiring their handiwork?) or spend hours playing with their new creation because they are practical and double as decorations or toys when they finish making it.
Art & Craft
Art and craft are the best indoor fun activities for your kids in the monsoon. As a parent, you can send your kid to art school or watch craft videos with your child on YouTube and try making those at home. The quality time you spend with your kid while making art and craft works strengthens your bond.
To Conclude,
The refreshing monsoon activities at Kaintal prep, the best ICSE Prep School in Patiala keep the children cheerful and energetic throughout the day. The parents can opt for our suggestions for some of the best fun monsoon activities for their kids.