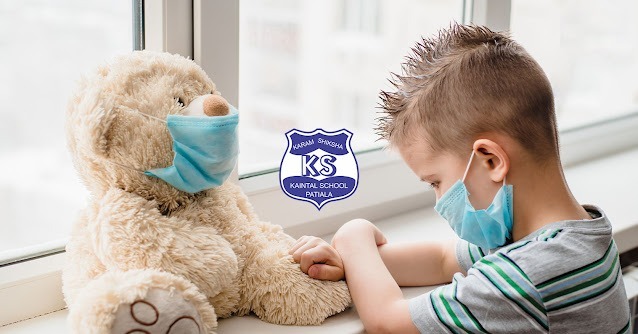 Helping Kids Deal with Pandemic Fatigue
The coronavirus pandemic has gone on for longer than we all expected and wanted. We have all been living in a state of uncertainty and fear for a really long time as the virus continues to disrupt our lives. People are growing tired of restrictions and staying indoors, not being able to meet their loved ones and carry out activities like in the pre-pandemic days. This has resulted in pandemic fatigue, which is affecting children even more than grown-ups.
Being the top ICSE Prep school in Patiala, we are sharing some important tips that will help you to reduce pandemic fatigue in your kids.
Make Mask-wearing Fun
It's true that wearing masks 24×7 is not easy or healthy, but it is mandatory to practice caution and wear a mask (correctly!) while out in public. It can be boring for kids to wear masks so make it fun by decorating them with motifs of their favorite cartoons, animals, superheroes and TV characters. Customize their masks for different outfits so that they are excited to wear them. Involve them in this activity, which will also make for a fun summer holiday project!
Fragrant Hand Sanitizers
The usual hand sanitizers have a sharp, pungent smell that can irk kids. To get them to use hand sanitizers more frequently, use sanitizers with seasonal fragrances that will appeal to the children. Just make sure that the sanitizers are good quality and do the job they are designed for and the scents don't irritate your kids.
Empower Your Kids
Educate and empower your children to refuse to play with and interact with family members or friends who are not wearing masks and are not social distancing. This doesn't have to get awkward, make your children say no to COVID-19 rule breakers in a polite yet firm way without turning this into a full-blown fight. After all, safety and health come first.
Meeting Friends Online
It's quite a challenge for kids to stay apart from their friends for so long. Allow them some time during the day to connect and bond with their friends virtually, either through video calls or fun, healthy online games. They will surely thank you and love you more for it!
The pandemic is not easy for anyone. But we need to be extra careful with kids. Being one of the top ten schools in Patiala, we think it's best to let them express their emotions in a healthy way. If they don't want to, that should be okay too.