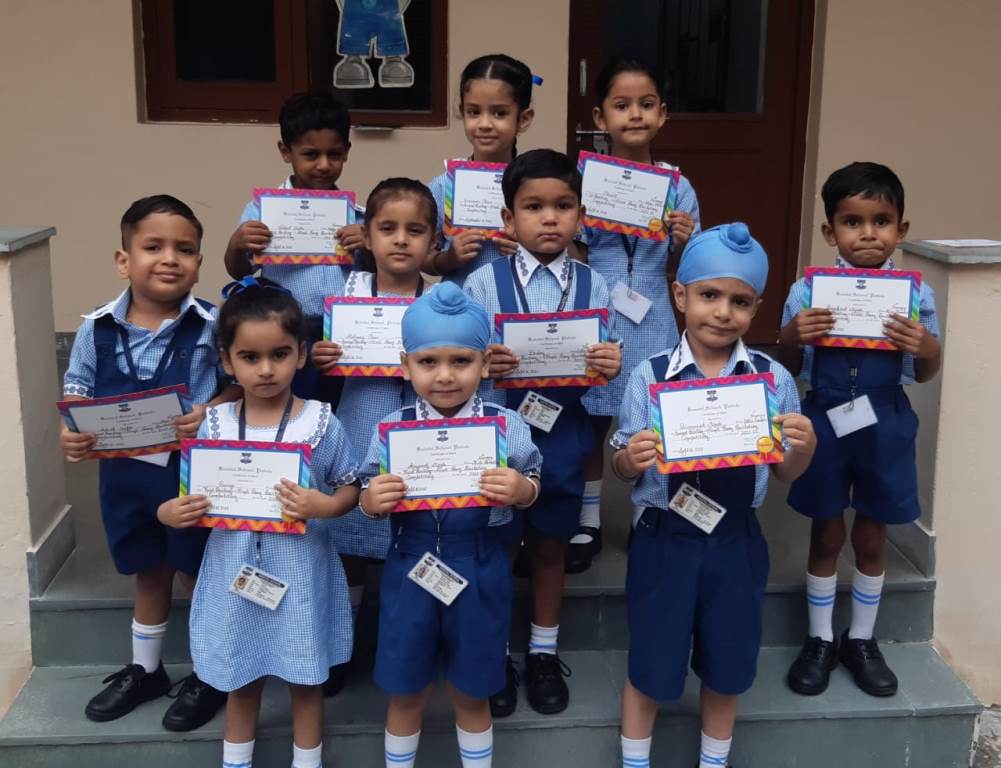 Hindi Poem Recitation Competition
Poetry is a simple way of expressing imagination or ideas. Young children have a keen sense of observation. Therefore, they comprehend and describe things that inspire them in simple language. They readily learn the language through the medium of poems infused with rhyming words.
Prep wing and Class 1 students of Kaintal Prep School actively participated in the 'Hindi Poem Recitation Competition' on 19th September 2022. Participants enthusiastically recited poems using props related to the chosen topic. The competition aimed at helping and improving public speaking skills and boosting confidence.
Results of the Poem Recitation Competition from Classes Nursery to Grade I are:
Nursery – HAPPY HEARTS
Name of students: Vedant Gupta, Gurasees Kaur, Nirbhao Kaur
Positions: First, Second, Third
Nursery – KIDS PARADISE
Name of students: Meerah Chugh, Mehnaaz Kaur, Aryansh Singh
Positions: First, Second, Third
Name of students: Cherill, Advik Gupta, Ronakjeet Singh, Prerna
Positions: First, Second, Third, Third
Nursery – LITTLE SEEKERS
Name of students: Devam, Bismanjot Singh, Manya
Positions: First, Second, Third
PREP-I BUDDING DAFFODILS
Name of students: Divanshi, Harnimrat Kaur, Jasgun Kaur, Pranvat Kaur
Positions: First, Second, Second, Third
>PREP-1 BUDDING MARIGOLD
Name of students: Agamjot Singh, Aahaan Dawra, Abhiroop Singh, Jasnaaz Kaur
Positions: First, Second, Second, Third
PREP-I BUDDING TULIP
Name of students: Aishleen Kaur, Prisha, Avnoor Kaur
Positions: First, Second, Third
PREP-1 BUDDING ZINNIA
Name of students: Vihaan Bansal, Avitez Singh, Jugaad Singh, Savreen Kaur
Positions: First, Second, Second, Third
PREP-1 BUDDING DAHLIA
Name of students: Roohanshi, Sejalpreet Kaur, Ravleen Kaur
Positions: First, Second, Third
PREP-II SHINING EMERALD
Name of students: Sanamjot Kaur, Sparsh Sharma, Karanveer Singh
Positions: First, Second, Third
PREP-II SHINING TOPAZ
Name of students: Navyug, Shreshtha, Tahira, Devanshi
Positions: First, Second, Third, Third
PREP-II SHINING CORAL
Name of students: Kaashvi, Evyanna, Davinya
Positions: First, Second, Third
PREP-II SHINING RUBY
Name of students: Ruhani Rana, Vihan Jain, Ayana Malhotra
Positions: First, Second, Third
PREP-II SHINING DIAMOND
Name of students: Avni Kakkar, Soumya Bareja, Gurveer Singh, Harshita
Positions: First, First, Second, Third
Grade I-A
Name of students: Rehmatdeep Kaur, Aashita Rai, Divanshi
Positions: First, Second, Third
Grade I-B
Name of students: Manvir Singh, Jaisvi, Harneezpreet Kaur
>Positions: First, Second, Third
Grade I-C
Name of students: Tashveen Kaur, Vanshjot Singh, Bhavya
Positions First, Second, Third
Grade I-D
Name of students: Divyanshi Sharma, Aradhya Deegia, Aseemjot Singh
Positions: First, Second, Third
Grade I-E
Name of students: Arihaan Raghuwanshi, Dhriti Goyal, Mansirat Kaur
Positions: First, Second, Third
Grade I-F
Name of students: Rudra Verma, Nayera, Deenal Mangla
Positions: First, Second, Third